As part of
Sonlight's 25th Anniversary Blog Party
, I thought I'd share some of our favorite summer reading and learning activities. We typically have a family read aloud going throughout the year. Summer is a great time to continue this tradition by reading living history, science, and literature books that you didn't quite get to during the school year. This is also a time I throw in a few classic literature pieces.
I draw these additional book ideas from
Sonlight Reader and Read Aloud lists
as well as from
Ambleside Online's Free Reading Lists
. When looking at the Sonlight and Ambleside lists, don't box yourself into a certain year or grade. I choose books above and below our kids grade level. We usually do our family read aloud in the evening or at bedtime.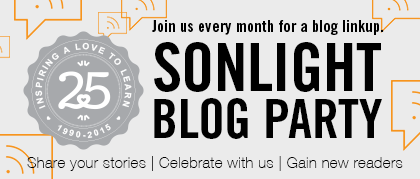 Our Family Summer Read Aloud Recommendations
Gentle Ben by Walt Morey
The Chestry Oak by Kate Seredy
A Little Princess by Francis Hodgson Burnett
Cabin on Trouble Creek by Jean Van Leeuwen
Kildee House by Rutherford G. Montgomery
Mountain Born by Elizabeth Yates
Follow My Leader by James B. Garfield
Understood Betsy by Dorothy Canfield Fisher
Little House series by Laura Ingalls Wilder
To Kill a Mockingbird by Harper Lee
Little Women by Louisa May Alcott
Where the Red Fern Grows by Wilson Rawls
Little Britches by Ralph Moody
Our 2015 Family Summer Read Aloud List
Abraham Lincoln by James Daugherty
All Set Sail by Armstrong Sperry
The True Adventure of Daniel Hall by Diane Stanley
Thimble Summer by Elizabeth Enright
Gone Away Lake by Elizabeth Enright
Cheaper by the Dozen by Frank B. Gilbreth, Jr.
Other learning activities our family enjoys during summer are nature study, softball/baseball, gardening, and campfires.